Envu Adds Target Specialty Products as Canadian Pest Portfolio Distributor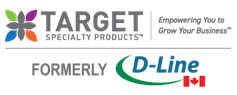 News Release
Envu Adds Target Specialty Products as Canadian Pest Portfolio Distributor
KITCHENER, ONTARIO, March 31, 2023 – Envu Canada is pleased to announce that Target Specialty Products (Target) is now a distributor of its portfolio of professional pest control products.
"As a leader in professional pest management and public health solutions, Envu Canada is committed to providing innovative solutions that meet the needs of our customers," says Darcy Olds, key accounts manager for Pest Management – Canada at Envu.
"By partnering with Target, structural pest management professionals across Canada will have an additional way to access the Envu portfolio, which includes: DeltaGard® SC, Drione® DP, MaxForce® Fly Spot Bait, MaxForce® Impact, MaxForce® Quantum, Tempo® WP, Temprid® SC and our brand-new offering Suspend PolyZone®, coming in spring of 2023," he adds.
"Target Specialty Products is extremely excited to have added Envu's structural pest product offering to our portfolio. Envu is a dominant player in Canada's pest control market, having the largest product offering available in the country. With Suspend PolyZone® being added to the 2023 lineup, this provides our customers a control product with a unique polymer layer which remains efficacious for up to 90 days. We are confident we have strengthened our pest chemistry offering, providing customers across Canada with a full spectrum of options," adds Taylor Howlett, pest sales manager, Canada.
Pest control operators can learn more about Envu solutions by contacting their local Envu representative or visiting Envu Canada Pest Management and Target Specialty Products by contacting their local technical sales representatives or by visiting Target Specialty Products Canada Pest.
Always read and follow label directions.

About Envu
Envu was founded in 2022, a new company built on years of Bayer Environmental Science's experience, for the sole purpose of advancing healthy environments for everyone, everywhere. Envu offers dedicated services in farm hygiene, golf and lawn care, greenhouse and nursery, industrial vegetation management, professional pest management, and range and pasture. Across each of its lines of business, Envu focuses its work in chemistry and beyond, collaborating with customers to come up with innovative solutions that will work today and well into the future. Envu's portfolio consists of over 180 trusted and well-known brands. The company employs nearly 900 people and operates in more than 100 countries with four global innovation hubs. For additional information, visit the Envu website.
About Target Specialty Products
Target Specialty Products (TSP) is a leading North American distributor of pest control and turfgrass maintenance products, having 80+ turf sales reps across Canada and the USA from 40+ conveniently located branch locations. TSP has Canada-wide distribution of structural pest chemistry, traps, spray equipment and associated products to service all aspects of the professional pest industry. Our establishment of a strong, local Canadian presence is critical to providing our customers with industry-leading service and products. We have warehousing in Port Coquitlam, BC; Calgary, AB (newly opened); Burlington and Putnam, ON; and Montreal, QC.